As any September baby will know, this month's birthstone is the sapphire. This gorgeous gem is most often thought of as having a bright blue hue, but did you know that natural sapphires can come in a variety of colors? Sapphires can be nearly any color, ranging from a yellow-orange to a deep purple; they can even be colorless! The only color sapphires can't be classified as is red, because if sapphires are red, they are called something else—rubies. That's right, sapphire and ruby are actually the same variety of gemstone!
So what's the meaning behind sapphire birthstones? In the olden days, sapphires were thought to protect wearers against evil and sickness. Some people even believed sapphires would protect you against poisoning, but we wouldn't suggest testing that theory! Certain cultures also believed sapphires to be the purest of gems, representing honesty and heavenliness. Because of this, medieval clergymen often wore sapphires in their garments.
Sapphires might not carry the same meaning with them today, but they're still very popular. The British royal engagement ring, worn by both Princess Diana and Kate Middleton, is a gorgeous 18-carat oval sapphire surrounded by diamonds. Many people may remember the boom in popularity of sapphire rings after the announcement of Will and Kate's engagement just a few years ago, a trend that can still be seen today. Though the royal ring may contain a large sapphire, it's far from the biggest one. The Star of India, currently on exhibition at the American Museum of Natural History in New York City, is one of the largest known sapphires in the world at a whopping 563.35 carats! Other famous sapphires include the Rockefeller Sapphire, originally owned by the famously wealthy family, and the Alexandrovna Sapphire, which was worn in a brooch by some of the last surviving noblewomen of the Russian Empire.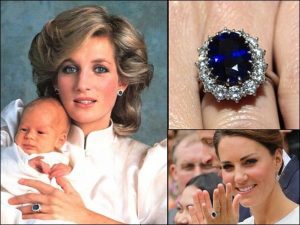 Even if you weren't born in September, sapphire jewelry looks great on everyone! Check out our selection of jewelry with sapphires on Nelle & Lizzy's website, including our stackable birthstone ring. If you're an Etsy shopper, look at our birthstone section, featuring items like the birthstone arrow necklace or the silver bar necklace! Which of our birthstone jewelry pieces do you like best? Let us know in the comments!