Can you believe it's already October?! We are excited for some sweater weather to hit us here in Texas, but even more excited to help support Breast Cancer Awareness Month.
As you are probably well aware of, October is Breast Cancer Awareness Month. The popular 'pink month' was created back in the 1980s in order to promote education about breast cancer prevention and issues, as well as raise funds for research. Nowadays, a lot of organizations are helping to promote the cause such as the NFL who wear pink accessories all month long and special pink jerseys for some of their October games.
Spreading the word about the cause and donating to popular organizations like the American Cancer Society or the Susan G Komen Foundation are definitely two great ways to support Breast Cancer Awareness Month but there is so much more you can personally do to support those who are battling cancer, especially your family and friends.
How to Help Someone Who is Battling Cancer
Whether your friend is in the hospital battling cancer, or in an outpatient setting, there are ways for you to offer help, encouragement and support. Studies have shown that those who are battling cancer need the support of their friends and family. You may not think there is much that you can do for them, but that's usually not the case. The question is, where to start?
For some of us, it's hard to find ways to help when someone is battling a life-threatening disease. Flowers probably won't do any good, a home cooked meal might be nice but what is something truly significant that would help? Friends and family of those battling cancer often feel helpless, like there's nothing they can do that would make an impact when in fact, there are ways to help. The American Cancer Society provides a whole printable PDF booklet ideas on "How to Be a Friend to Someone with Cancer" and one of the first places they suggest to start is to talk with your friends; Learning the process of treatment and about the changes your friend is (or will be) going through will help you adjust your efforts to what they may need most.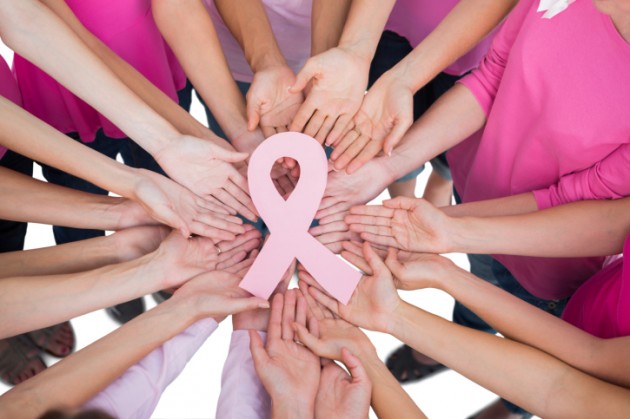 As I was reading through this lengthy list of helpful hints, I started thinking of my personal experiences and noticed a few of these tips that would come in handy for me. Below are a few that really stood out to me:
Send brief and frequent notes. Just something to let them know you are always thinking about them.
Speak to the family to find out ways you can help. They will probably be the best resource to tell you what your friend needs.
Spend time with your friend. Bring a puzzle, crossword or activity for you to do together, or even to do alone if your friend doesn't have the energy to participate. You can watch their favorite show or movie as well.
Support your friend's feelings. Let them be negative or withdrawn; don't try to preach to them about being strong and urging them to fight the disease.
Surprise your friend with small gifts. Think of things that would be useful, creative, and fun.
Cancer Awareness

Another way we can help fight this far too common disease is by educating ourselves and others! The world has made strides in the studies, awareness and prevention of cancer. Unfortunately, it's not possible to know exactly why one person develops cancer and another doesn't, but studies have shown some common risk factors and preventative measures that we can all try to apply.
Cancer.gov is a wonderful resource for learning about cancer prevention and risk factors. They explain that when scientists are looking into preventing new cancers from starting, they look at risk factors and protective factors. "Anything that increases your chance of developing cancer is called a cancer risk factor; anything that decreases your chance of developing cancer is called a cancer protective factor."
Risk Factors for Cancer
As stated above, risk factors are anything that increases your chances of developing the disease. As of yet, there is no sure-fire way to prevent cancer but more studies are starting to show some variables that can aid in cancer prevention. Particular risk factors can be avoided but many cannot. For example, use of tobacco can be avoided but inheriting certain genes cannot.
Most cancer risk factors are initially identified in the epidemiology studies. In these studies, scientists look at large groups of people and try to identify the similarities between those who develop cancer and those who don't. These studies cannot prove that a behavior or substance is definitely a favorite in the development of cancer but it's a good place to start. Some of the most-studied and most comment suspected risk factors of cancer are:
Tobacco
Age
Diet
Hormones
Alcohol
Obesity
Sunlight
Cancer Prevention
Cancer prevention is actions to take that lower the chance of developing cancer. Many factors – like our genes, lifestyle and our environment can increase or decrease the risk of getting cancer. The more studies that are done on this disease, the more information we have to work with and take preventative measures on.

Specific to Breast Cancer Prevention
Sadly, breast cancer is very common; more than 3 million US cases surface every year which means we need to be taking more preventative measures! We are tired of losing loved ones to this disease – especially since more preventative measures are being discovered. Lifestyle factors like staying physically active and limiting alcohol consumption are some of the most common and well-known ways to help prevent cancer. Other factors that you should think about and take into consideration as suggested from Mayo Clinic are:
Smoking. Accumulating evidence suggests a link between smoking and breast cancer, particularly in premenopausal women. Not to mention that not smoking is a great overall positive health choice.
Breast-feeding. A lot of mothers want to breastfeed for as long as possible (whether for emotional or health reasons) and it may be doubly beneficial since it may play a role in breast cancer prevention; the longer you breastfeed, the greater the protective effect.
Controlling your weight. Being overweight or obese shows to increase the risk of developing breast cancer.
Being physically active. This mostly ties into the idea of controlling your weight. Being physically fit and at a healthy weight can lower your risk of breast cancer. 150 minutes a week of moderate activity is recommended.
By following these guidelines for cancer prevention, it is one way we can help lower the cases of cancer and decrease the deaths caused by this disease.
Let's Stamp Out Cancer!
Join us as we help fight this disease! Through the entire month of October, 20% of the purchase of any cancer related product will be donated to the organization of your choice. Designated items are marked with an asterisk and can be shopped by visiting our site here.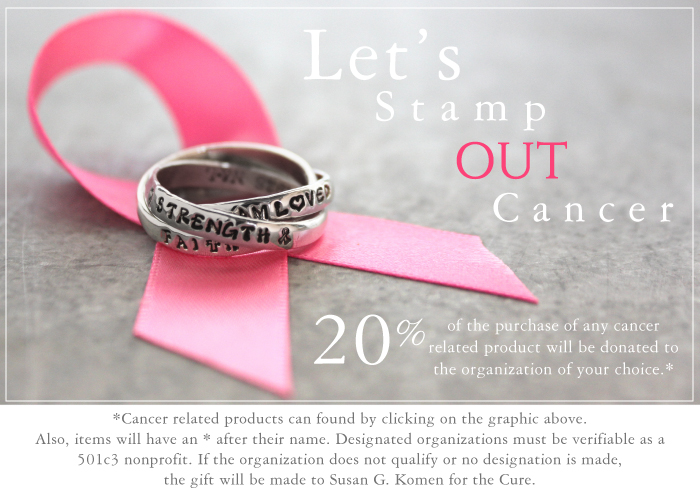 Our line of cancer survivor jewelry is a meaningful way to support someone who is battling or has battled ovarian cancer, breast cancer or any other horrible disease. You can create a customized piece of cancer survivor jewelry that will help you, or someone you love, realize life is worth fighting for. Let's unite and stamp out cancer together!