Tis the season for holiday party planning. With Halloween happening in just a few weeks, you know we have been constantly perusing Pinterest for costume and party ideas – as every mom does these days. As we all know, Pinterest has a plethora of amazing ideas but also a bunch of impossible projects. Assuming you are a busy mom, like we are, you probably want to find the most creative, yet easy ideas for your children's holiday parties. Whether planning your own Halloween party, or making snacks for your child's class, we've come up with some great party, snack, and costume ideas for all you moms out there!
Thanks to Pinterest, women around the world have found amazing ways to recycle their old t-shirts, and 32,465 ways to organize around your house. The one major downfall of Pinterest is that many people end up creating the same things – how many melted crayon art projects have you seen at this point? I can usually point out a Pinterest project a mile away. With over 70 million users, repeat and insanely popular projects are bound to happen.
Halloween Costumes
Around this time Halloween costumes are popping up all over your Pinterest feed. You may even be able to tell what costumes will be popular this year. We've seen a lot of them too but have been trying to filter out the ones that have been overdone. Don't get me wrong, every one of us loves the movie Frozen – girl power! – but how many little Elsa or Anna's knocked on your door last year? Way too many to count. To prevent that this year, we've put together a few costume ideas that are a nice middle ground between unique and not too weird.
Crayola Crayons: Do you have a girls crew going Trick or Treating together this year? This costume would be so adorable for them and the possibilities are kind of endless; there are so many colors to choose from! For this crazy hair, use an empty water bottle to make the hair stand up and tie the top with a hair tie. Then use the temporary colored hair spray that can be found at most costume shops.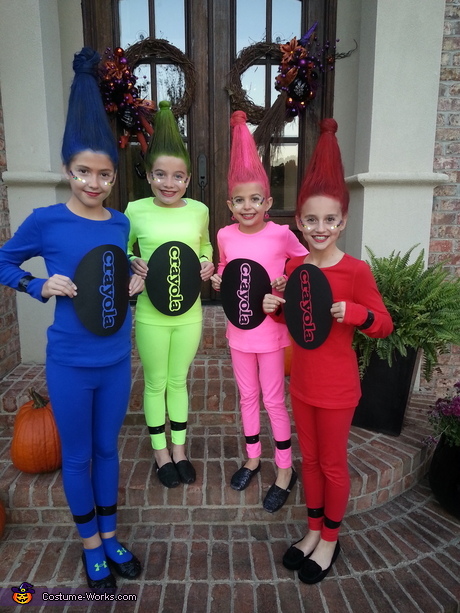 Scuba Diver: I don't know about you, but I haven't seen too many scuba divers walking around on All Hallow's Eve. This is another super simple costume that would be great for one child, or a group of kids.
Owl: This costume might be a bit more time consuming than the others but well worth it. You can even use an old t-shirt for the feathers! Hello, money saver!
Lego: When The Lego Movie came out last year, there was a big Lego craze. Now that it's a year later, the chances of running into many yellow-headed people should be lower this year. And this one actually looks pretty fun to make!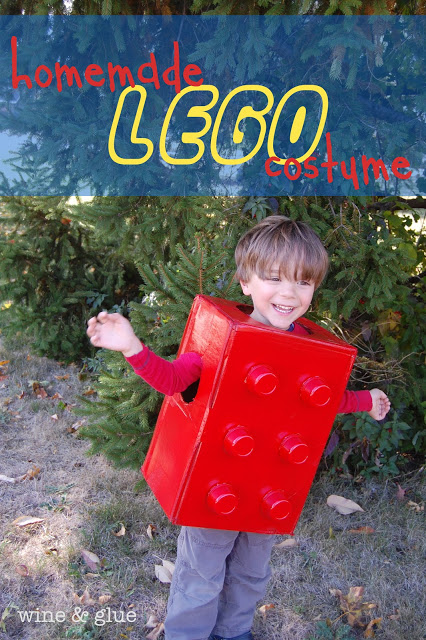 Halloween Snacks
For some parents, finding snacks that your child will eat (and even more so, enjoy) can sometimes be a difficult task but with these adorable Halloween snacks, we don't think you'll have that problem. These spooky snacks are not only awesome decor, but also a delicious snack! They would be perfect if you were throwing your own Halloween party, or if you had to bring Halloween snacks to your child's school for a party!
Magic Potion Punch: This is a drink that is exciting to watch! You read that right – yes, exciting to watch. This spooky drink is compiled of lemonade, grape juice, and lemon-lime soda and when you drop in a spoonful of Jell-o, it makes a fizzy concoction that is perfect for the occasion.
Bowl of Worms: How creepy and cool is this Halloween snack!? We were grossed out but also in awe when we came across this one. All it takes is some Jell-o and a handful of bendy straws!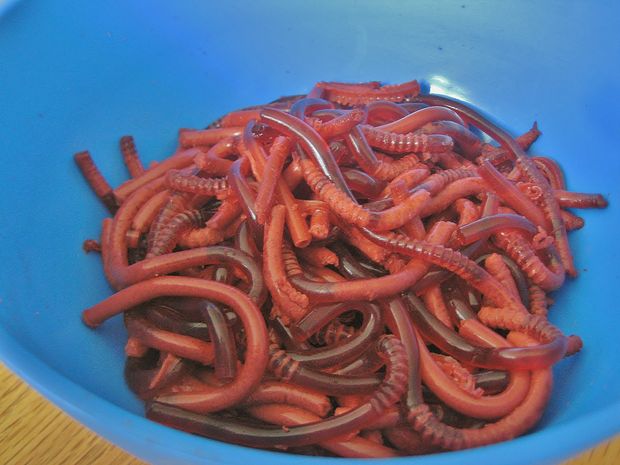 Banana Ghost 'Popsicles': Who can say no to a (semi) healthy kid's snack? These adorable 'popsicles' are only made up of bananas, white chocolate (or yogurt) and little chocolate chips!
Pumpkin Fruit Cups: Talk about a simple Halloween snack. All you have to do for this one is buy the appropriate amount of orange fruit cups, and decorate the pumpkin faces on top! You can easily cut out these jack-o-lantern faces by hand or probably even find some type of die cuts. And if your kiddo is old enough, they can help you cut these out and make it a fun task to do together.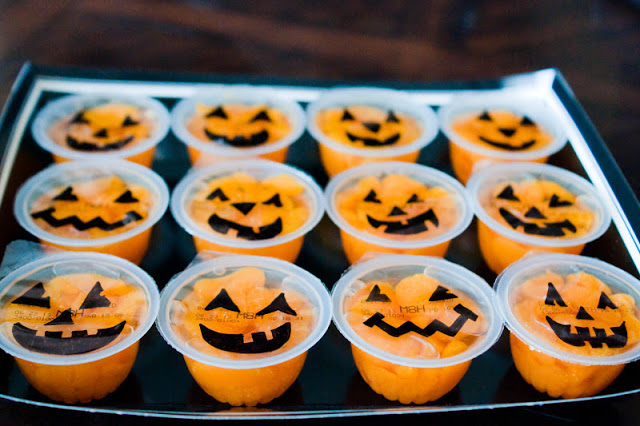 Halloween Decorations
Decorations, whether it's everyday decor in your home or decor that you only pull out for special occasions, can really set the atmosphere and mood. Take a birthday party, for example. Imagine walking into a birthday party that had no balloons or streamers… How depressing. The same idea goes for any other occasion – a wedding, Christmas or Halloween party. Decorations make all the difference, which is why we compiled a list of a few awesome, but simple decorations to make for Halloween.
Bat Garland: This is a super simple, yet dramatic project. It involves a free download of bat templates, black construction paper, ribbon or twine, scissors and a whole punch! For the crafty moms out there, you may even have most of these supplies already.
Ghosts in a Jar: We just can't get over how cute these little ghosts are! Not only are they adorable, but they only take a few supplies to make them! This would be a fun afternoon project for you and a fellow mom.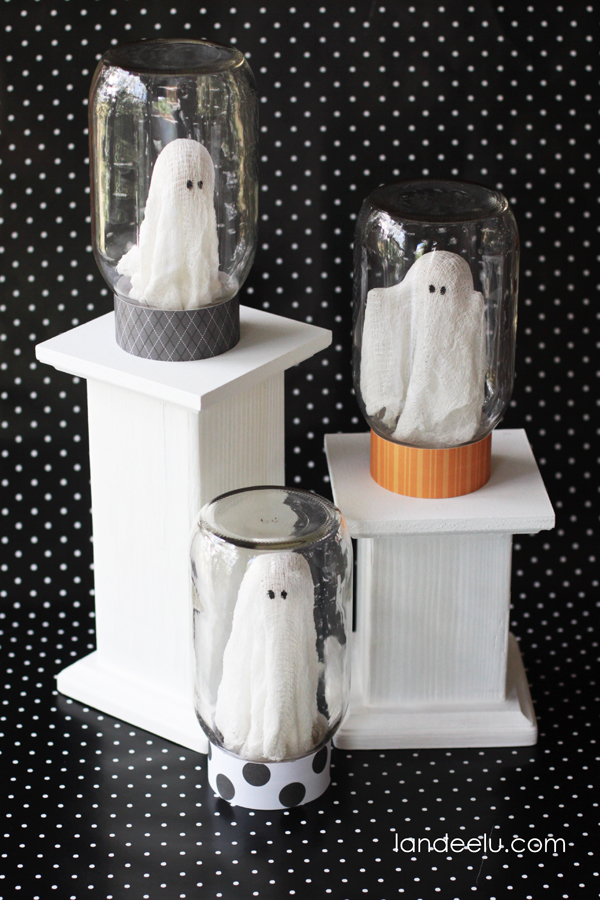 Candy Corn Pumpkins: Some of you may think these have been a bit overdone but we think it's a project that is cute enough to make it to our list. All you need is some paint and a somewhat steady hand!
Window Monsters: This is one of our favorite Halloween decorations! We have done this in passed years and it was a hit! Neighbors told us how awesome (and scary) our window monsters were. You can copy these monsters or if you're feeling creative, make your own!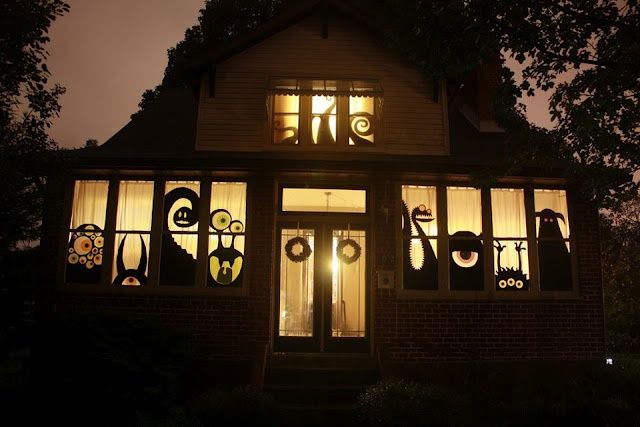 To see these Pins, along with some of our other favorite holiday ideas, they can be found on our Holiday Board on Pinterest. Tell us what some of your favorite Halloween decor, snacks or costumes are over on Twitter at @nelleandlizzy. We'd love to hear about your Halloween tricks-and-treats!