Can you recall a time when you received the perfect gift?
A mother always remembers the day their child was born. The special feeling a mother has bringing a new life into this world is priceless.
Special days like this are shared between family and friends. I, for one, have many best friends that have given birth to their first bundle of joy within the last year. When I go to visit them at the hospital and meet that new precious baby, I am blown away by all the gifts that a new mother receives. Many of these gifts are so special, beautiful and unique that it made me feel like my bouquet of sunflowers (my typical go-to gift for new mothers) was overshadowed and maybe even a little ignored.
Then one day it hit me – *poof!* The perfect gift for any new mom should be personal and sentimental. For the next hospital visit, I tried to be a little more prepared: I ditched the sunflowers, called my friend's mom to find out her newborn's name, and ordered a custom bracelet for the new mother. When I delivered the custom bangle, it had the newborn's name stamped right on it. I didn't wrap it, I just greeted my friend at the hospital and chatted for a bit, then slipped the hand-stamped bracelet on her wrist. Her reaction was more than I could have ever expected. Her eyes got wide and she started to tear up. It was so sweet and I'm glad that my personalized bracelet was one that would mean so much to her.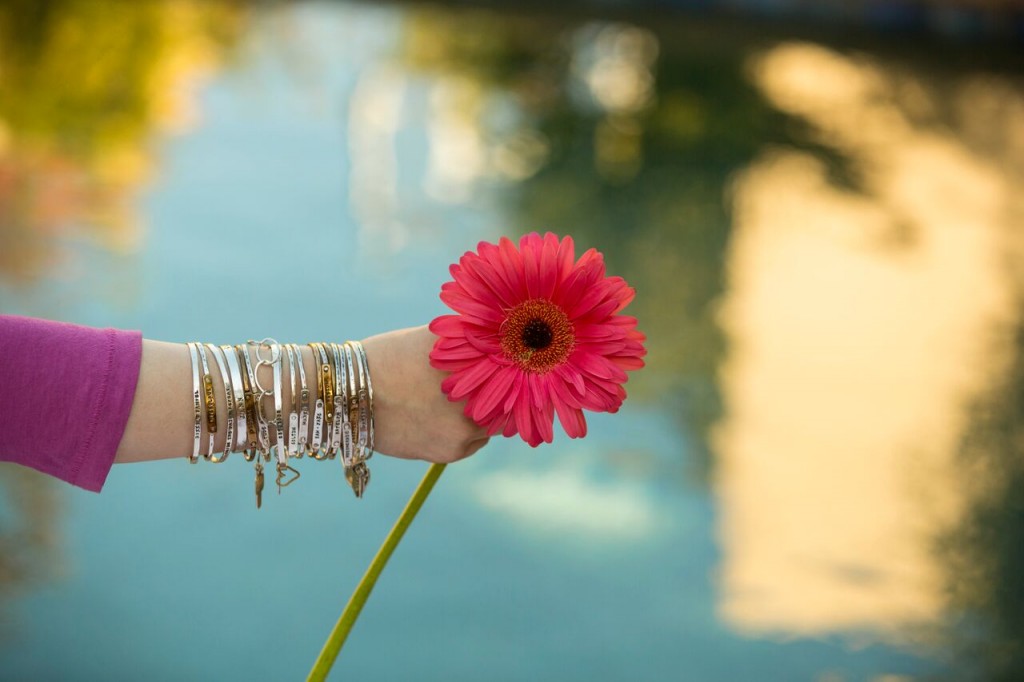 From that moment forward, I realized I had cracked the code for the perfect gift for new mothers. Now for every baby shower, every push present and visit to a hospital, I bring along with me a customized piece of jewelry with the newborn child's name on it – and they all LOVE IT! These ladies never take this jewelry off. Every time I see them, they smile and show me that they are still wearing that bangle, necklace, or ring with their little baby's name stamped onto it.
Plus, don't forget the new moms who have brought a child into their family's home by adoption! Oftentimes, these moms can get overlooked but never should be! Having a child, whether by birth or adoption, is still a life changing milestone in any woman's life. I have a friend who just did adopt; they had a very fun adoption party and that sweet Mom loved every minute that people took the time to share in their new bundle of joy! A hand stamped personalized double ring would have truly been the most perfect gift for her!
Picking a Unique Gift for a New Mom
I have talked about this a few times with some of my girlfriends, and many of them have difficulty with trying to find the perfect gift for a new mother. It can be such a grueling process and at some point, we have all been in a position where we are searching for that treasured gift for a new mom. When in this situation, people tend to think about gifts they have gotten themselves, or those we have seen others receive. And most gifts are typically items that we still cherish today. Yes, beautiful and fragrant flowers are much appreciated, but they have become the standard present for most any occasion. Celebrating someone you care about as she enters into a new stage of her life, deserves something special. The perfect gift for a new mom is one that forever links the mother to the new baby for all of time! What better way to do that than with a personalized item that can become a family heirloom in the future!
So with that in mind, I have put together a few ideas to help all those out there who are searching for that perfect present for any new mother. Hopefully some of these ideas will help you give the gift that is forever cherished to that new mother in your life.
Perfect Gifts for New Mothers
The easiest and most elegant gifts to give that new mother in your life is a personalized Mother's Stamped Tag Charm Necklace. Typically, I tend to get the newborn's name stamped into the charm, but lately I have been adding a birthstone to the charm for a little extra sparkle. For my really close friends I might even add a second charm to the necklace with the birth year on it, like you can see in the Established Family Charm Necklaces.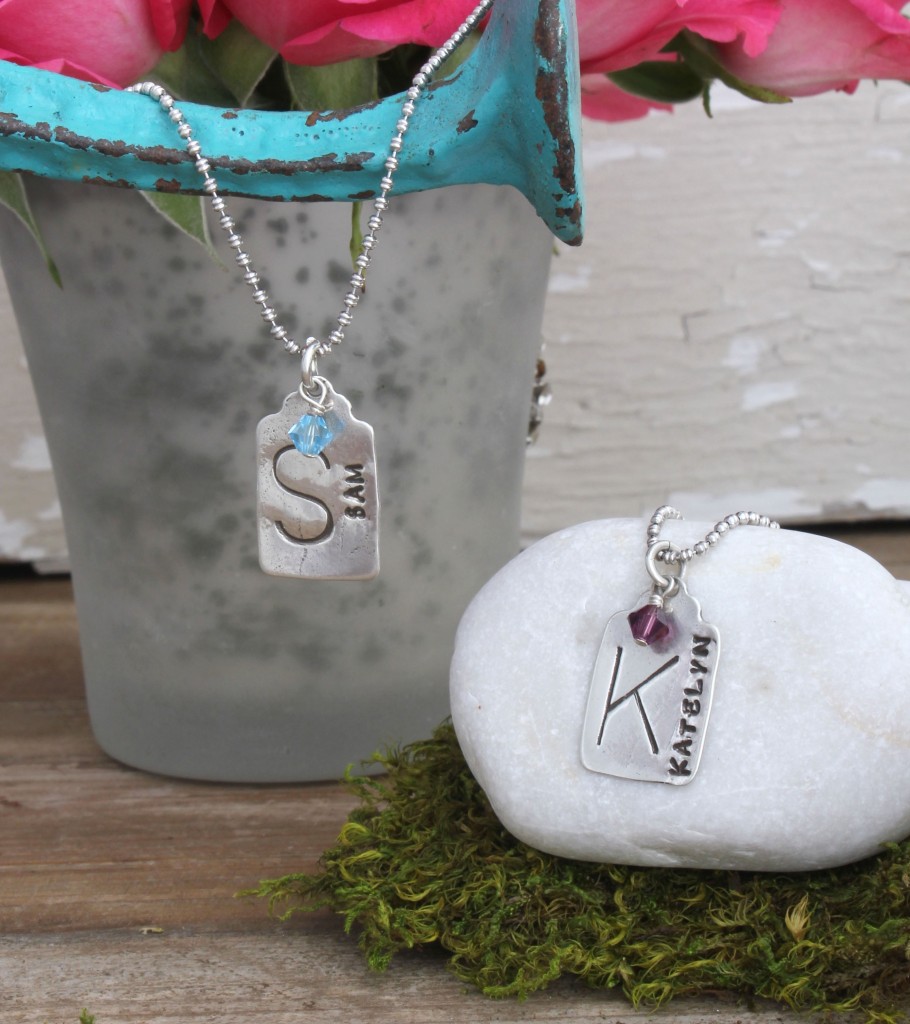 My next go-to gift for new moms is a personalized bangle bracelet with the newborn's name stamped on it. Some of my favorites are from the Family Bracelet Collection because I am able to not only get the newborn's name stamped on the bracelet, but I can also add the mother's name and even the birth year stamped on the inside of the bracelet. I find that this bracelet costs about just as much as a bouquet of nice flowers – except the bracelet lasts forever!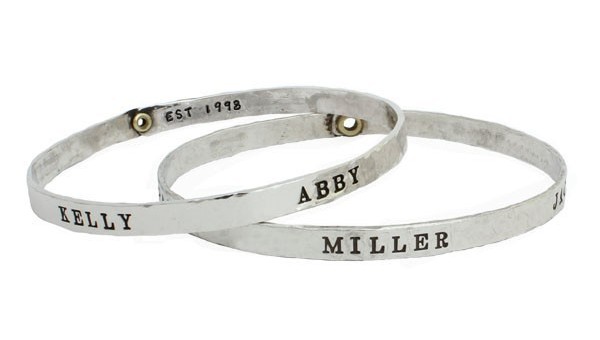 Finally, for those very special friends, I tend to splurge a little more and get them a double ring with their name and their baby's name stamped. It's called the Mother Daughter Ring and it is always a big hit. The hardest part about giving this gift is having to find out my friends ring size without spoiling the surprise. To pull this off, I typically pull in the help of the baby's father. Most husbands know their wife's ring size, and if they are not married yet, it is always a secret nudge to get the boyfriend to find out the ring size just in case he might want to make it official – *wink wink*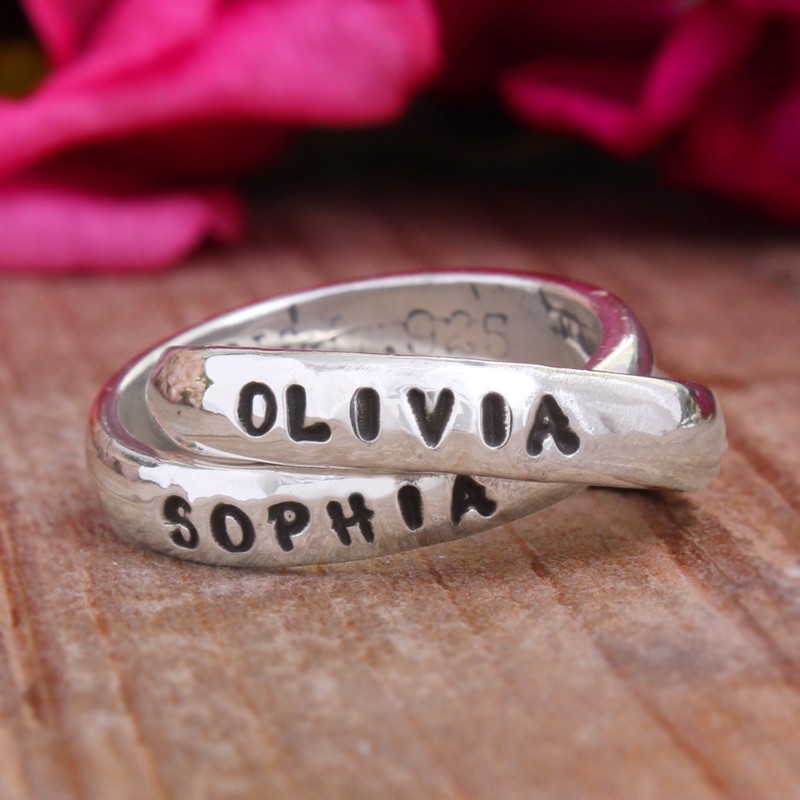 What better way to commemorate the special time of becoming a new mom than to be given an exquisite bracelet, ring or charm that is personalized with their precious baby's name? Especially with more and more unique names being given every year, a personalized present may be hard to find but with the Nelle and Lizzy, you'll be able to give an item that is perfectly tailor-made!