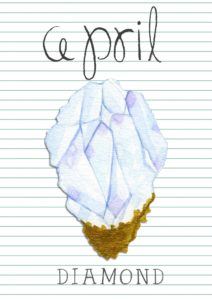 The diamond needs no introduction. One of the most coveted gemstones in the entire world, the diamond is the object of many women's desire – there is even an old adage that has inspired jazz songs and movies surrounding its theme that "diamonds are a girl's best friend".  But did you know that the diamond is also April's birthstone? Let's learn more about the origin and traits of the diamond that has contributed to cementing its high standing among social classes and the world.
History & Current Use
The word "diamond" originates from the Greek word "adamas", or to possess something that is unconquerable.  The desire for mining diamonds stems back to the Middle Ages and the mere sight of a diamond spurred mine owners to spread rumors that they were poisonous so no others could obtain it. As you now know, diamonds are coveted by miners and fiancées around the world over and the bigger, the clearer, the shinier the diamond is, the more valuable and desirable it becomes.
The diamond is also been believed to harness strength, based on its ability to cast off light and evil spirits when it is cut with many facets. In fact, the ancient Hindus believed that the diamond possessed strength equal to the power of lightning and could also provide protection during wartime.
Versatile & Brilliant
One reason that the diamond was designated as the April birthstone is that April is known for rain showers and rebirth (early spring), and diamonds resemble the clearest of water. If you have ever gazed into the infinite facets of a beautifully cut diamond, you can get lost in its shapes and intricacies, almost like trying to locate yourself in a hall of mirrors! Due to the tradition of being gifted to fiancées as a symbol of everlasting love, the diamond procurer, DeBeers, coined the phrase, "A Diamond is Forever".
But you may not be aware of the sheer volume of colors that the diamond naturally occurs in beyond clear or "colorless" – ranging from yellow to orange to blue to pink to brown and even BLACK. Also, thanks to recent developments in science, diamonds are now even more plentiful because they can be grown in a lab!
The Epitome of Bling
The reasons for selecting a diamond to wear are hypnotically clear! Nelle & Lizzy can set a diamond Swarovski crystal for your April birthstone in a variety of styles or shapes—in rectangle, square, or round—and can be selected in gold or silver. From customizable birthstone bars to stackable rings and charms, we have clear crystals that mimic the look of flawless diamonds.
Do you have someone you love or important in your life with an April birthday? Nelle & Lizzy jewelry makes the perfect gift! Shop our website and check our Pinterest board for ideas for different styles of diamond-inspired jewelry.