If I were to ask you to think of the biggest fashion faux pa's or fashion "rules", what would immediately come to your mind? A few that pop up in my brain are: wearing white after Labor Day, not wearing black and brown together, and wearing mixed metal jewelry.
And I think the time has come to nix these rules.
Come on, ladies, rally with me! It's the 21st century. We have self driving cars, a woman running for president and phones that are smarter than most of the human population. I would even dare to say that fashion "rules" themselves are on the verge of being nonexistent.
Plus, fashion rules are meant to be broken anyway, aren't they?
If you are unfamiliar with the rule of mixing metals, it claims that you should always wear the same colored jewelry when it comes to the metal. Meaning that you should wear all silver, or all gold – no silver necklace with a gold bracelet or any other combination of the sort. If this was still the case, I would be limited to wearing silver tones all the time since my engagement ring and band are white gold. And that would leave me so sad because I love jewelry of all colors!
Mixing Metals
Assuming that you are like me, you may have grown up being told to always match your jewelry. If you want to wear a rose gold bracelet, you should also wear a rose gold necklace, so on and so forth. My grandmother or mother would never have left the house without all of their jewelry completely matching.
(Update: my grandmother is still set in her ways but my mom is now a metal mixing queen!)
This is an old school rule (that I'm not sure how it started) but fashion has made progressive strides since fashion no-nos like this were relevant. Fashion these days are more about not following the rules, and wearing what makes you happy and feel confident. I'm not saying you should be wearing similar outfits to Ugly Betty, but if you like wearing gold yet you have a cool skin tone, wear it anyways! If you like the way it looks on you, then wear it. Wear it with confidence and no one will question it.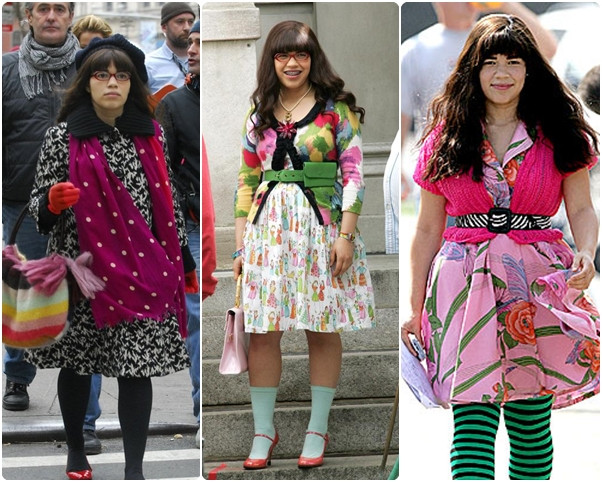 Some of my favorite mixed metal pieces from Nelle and Lizzy are listed below. All of these items have a subtle mix of metals. Whether you are interested in incorporating mixed metals into your wardrobe or want to add more of these type pieces into your collection, these items are the perfect options!
The Family Necklace is one of the newest pieces to the Nelle and Lizzy collection. You have the option to mix the charms to create a necklace with gold and silver, or get a more classic look with all gold or all silver. I love the mixture of metals and textures in this necklace, along with the uniqueness of it. I really do love everything about it – the chain, the length, the nameplate on the side, and the charms. It just is the perfect combination for an amazing necklace!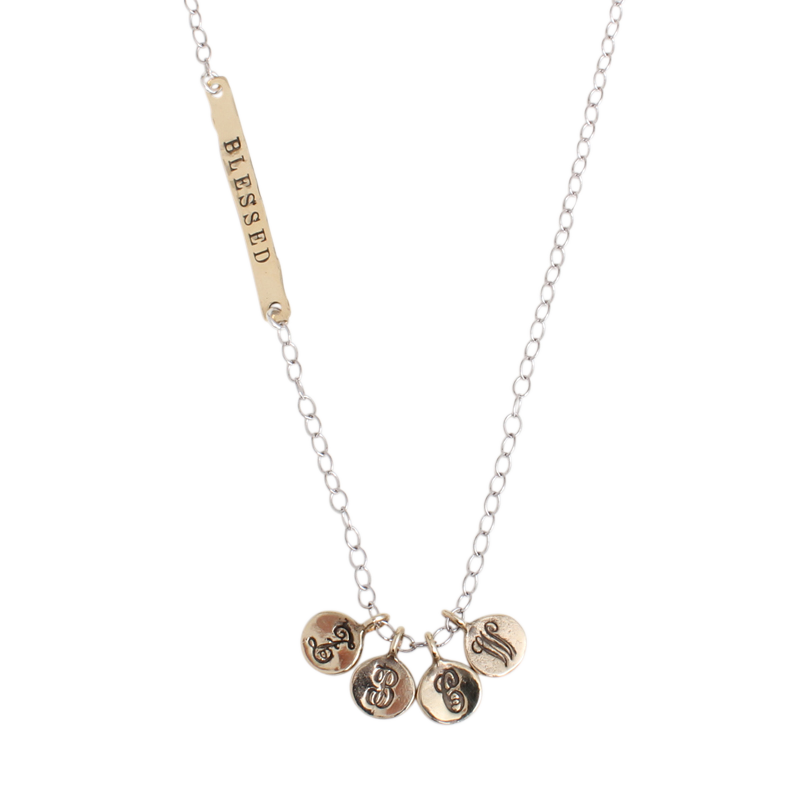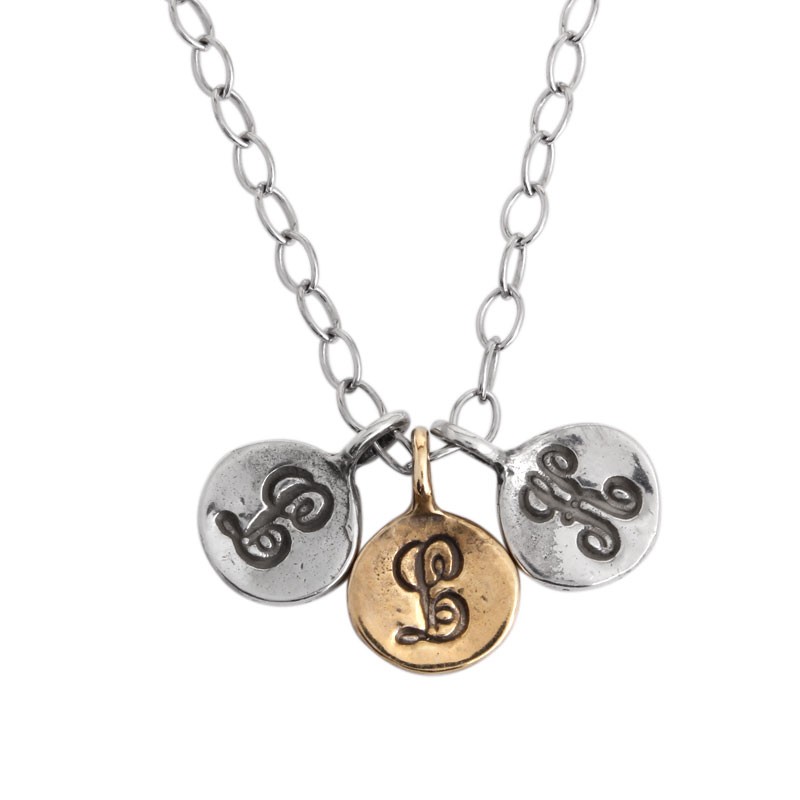 Personally, I like this one a lot because of obvious reasons (they're adorable) but also because they have different bangle options – small and large. I like this myself because I have really small wrists (most bangles don't fit me, actually) so I like that there are some size options. Bangles can tend to be a difficult gift to give or even buy for yourself because sizing does matter, even though bangles are typically a "one size fits all" kind of product. I'm also fond of the nameplate and the personalization options; you can get your children's names, your sibling's names, or even just some inspirational words that you can look down upon and will bring a smile to your face when you see them.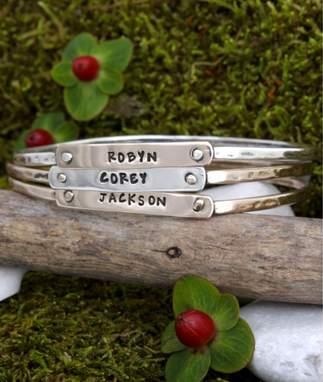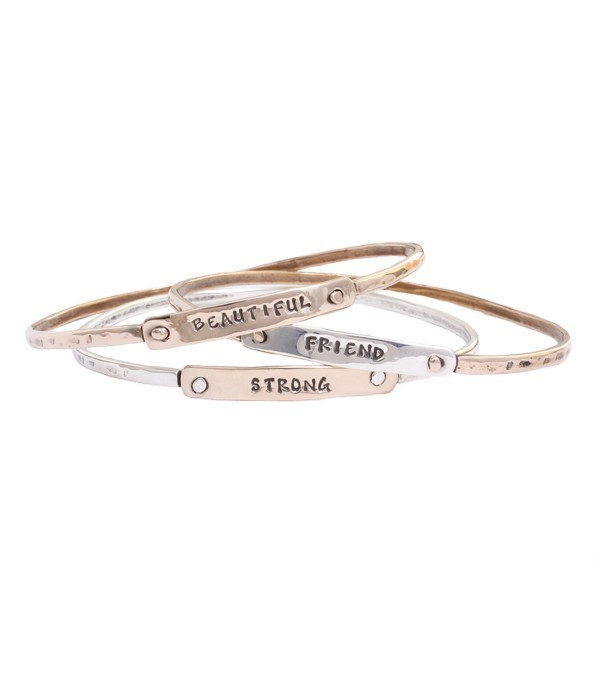 I would dare say that the Trinity Ring is the ultimate mixed metal piece. Nelle and Lizzy took one of their most popular triple rings and put a modern twist on it. The Trinity Ring combines 14kt gold, white gold and rose gold and would be a perfect heirloom piece to be passed down through your family. You are able to customize the text to be stamped on it and choose from two different fonts!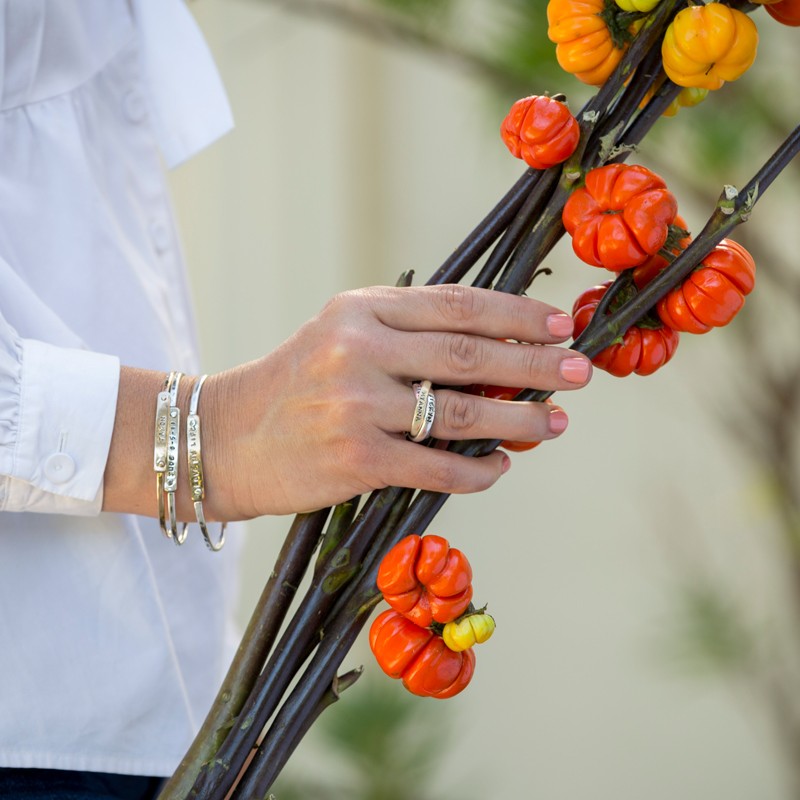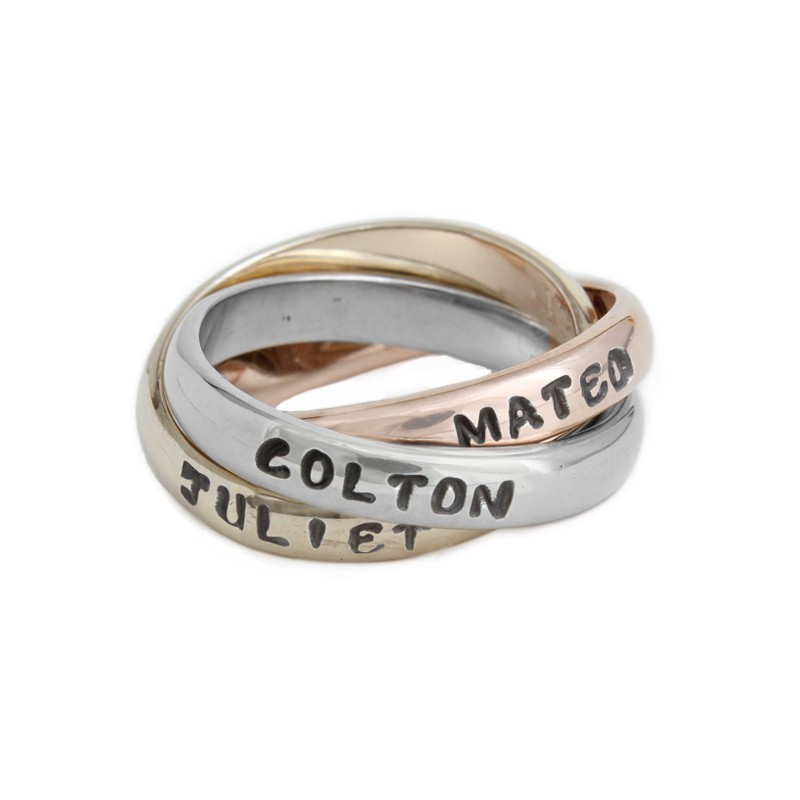 What Fashion Means to Me
To me personally, fashion is a way to express yourself and there are no rules that every single person should adhere to. Fashion is what you make of it. It's all about what you like wearing, what flatters your body and what makes you feel great about yourself!
I am a fashion lover and advocate and over the years I have developed my own opinions about fashion and some of these opinions come from my rebellious personality. I've always been the rule breaking type and this trait doesn't stray much when it comes to fashion, either. I won't lie, I love to mimic outfits I find on Pinterest but I also love to put my own spin on them and wear items that fit my own personal style. I love wearing white after Labor Day and absolutely love how brown and black pair together to form the perfect outfit!
I also don't believe that anyone should follow trends just to follow trends. Just because flared jeans are back in style, doesn't mean you have to wear them. Just because you see everyone wearing outfits with pattern mixing doesn't mean that you have to wear the same outfits. If you want to match all your jewelry, match all your jewelry! If you want to wear gold and silver jewelry, wear it. I think everyone should do what makes them feel confident and feel good about themselves because that is what fashion is all about.

Comment below and tell us what fashion means to you or what fashion rules you like to break! You can also reach out to us on Twitter at @nelleandlizzy or on Instagram at @nelleandlizzy – we would love to see how you style your favorite Nelle and Lizzy pieces!