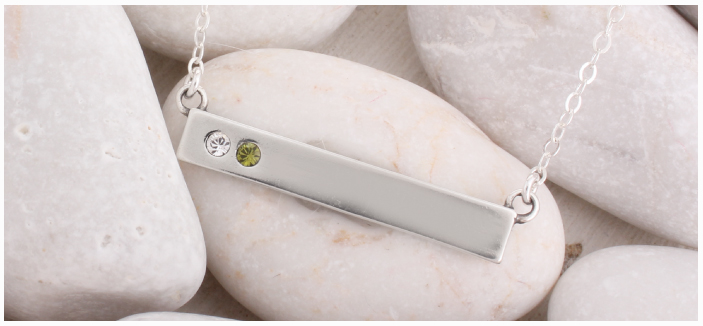 We had a lovely customer send us an email regarding the Birthstone Bar Necklace she purchased. We were so inspired by this jewelry story of  friendship we decided to share the story.
Dear Nelle and Lizzy,
Yesterday I received the bar necklace that I ordered, and it looks beautiful. I thought you might like to hear the story behind it.
My youngest daughter, Caitlin, got involved with the organization Big Brothers Big Sisters when she was in her early twenties, and she and her little sister, Kiera, formed a very strong bond. Just a couple of years into their relationship, Caitlin was diagnosed with a rare blood disorder, and underwent a bone marrow transplant. While she was in the hospital, she and Kiera kept a journal that they would mail back and forth until she was well enough to come home. Because of her dedication to her relationship with Kiera, Caitlin was voted Colorado's Big Sister of the Year in 2009.
Unfortunately Caitlin developed graft versus host disease, and passed away in 2012. Kiera was devastated. My older daughter and I have kept in touch with Kiera since then, and I'll be attending her high school graduation ceremony next week, where I'll give her the necklace that has her and Caitlin's birthstones next to each other. Very fitting, I think.
Sincerely,
Lindsay Noisom
Birthstone Bar Necklace: https://www.nelleandlizzy.com/count-your-blessings-bar-necklace-in-sterling-silver