This one is a post for the husband's out there. Buying your wife the perfect gift is sometimes challenging but we've come up with a few points to help you get started on the venture!
Being a wife myself, I think it's safe to say I have a pretty good sense of what wives want when it comes to receiving presents. All we want is to be pampered and loved and gifted with sentimental items every once in a while. What we don't want is a pair of socks with chihuahuas on them for our anniversary (my husband and I have two chihuahuas so it isn't as random as it sounds), but nonetheless. No offense guys, but sometimes you need a little help in the gifting department. Buying us a sports t-shirt for our birthday isn't going to get you brownie points, but you know what is? Jewelry. Jewelry is the perfect gift for your wife.
The Perfect Gifts Of Love
In all the hustle and bustle of our lives, sometimes we begin to feel overwhelmed, as though the world may swallow us. Whether it's the frantic search of back to school season, the anxious excitement of beginning a new job, or maybe even buying our first house, it is hard to see all the things that make life so wonderful. The love notes left on the breakfast table, or that new pair of earrings that we absolutely adore, this can all be lost if we don't hold onto them. Even little things showcase how much we are loved, like asking if our seat belt is buckled, or making sure we made it home safely. These things, though small, are expressions of how deeply we care for one another. They help us remember that these are the happiest days of our lives, and that not only should we appreciate what we have, but that we all deserve to be happy.
What Is The Perfect Gift For Your Wife?
Anyone can buy a ring from a department store, and anyone can pick up a bouquet from the grocer. When deciding on the perfect, unique gift for a wife, you want something personal. Something that that tells her that she means the world to you, and that she is your everything. That special someone deserves a special gift after all. Personalized name rings are very popular items, as they are literally a one-of-a-kind item that would be a unique gift for your wife.
There are obvious occasions set aside for gift giving and those are for anniversaries, Valentine's Day, Christmas, birthdays and maybe even Mother's Day! Let's be honest, women almost expect jewelry on these occasions but do you know what's one of the best gifts to give your wife? A "just because I love you" gift! A gift that you can surprise her with on a random day of the week, for absolutely no reason, will speak volumes to her! Imagine her waking up on a normal Tuesday morning, only expecting another average day, but on her nightstand is a little brown box and a note from her husband! She will be belated at how thoughtful you are and how absolutely amazing her husband is.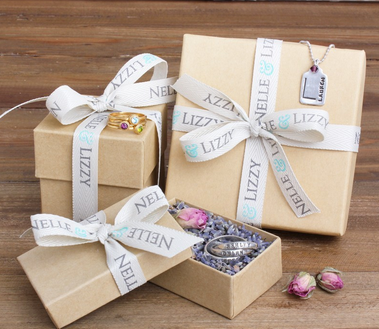 Loving Our Moms
It's the hardest job in the world to raise a family, and always has been. The late nights spent cooing to our loved ones softly, and the hectic search for the perfect outfit for class, sometimes it also feels like the most thankless job in the world. But then there are those moments, when we look into their eyes after a fit of laughter, and it is as if the whole world is lit up. We realize then, that it is all worth it. We all deserve to be happy, and that also means that we all deserve to be spoiled now and again.
Should I Get Her Gold Or Silver Jewelry?
You might be a little unsure of what to buy. While one could outright ask plainly, where is the romance in that? What you need to do is ask yourself a few questions: Gold does not tarnish, but silver does, will they want to follow with the upkeep of their jewelry? What kind of colors do they have in their wardrobe. Silver goes well with dark colors like navy and black, but if they prefer bright, vibrant colors that pop, then gold might be more her style. At the very least, you can try to observe what jewelry she normally wears, and you might find your answer. If they are looking to try something different, then the opposite is your best bet. If they prefer classy and original, then go with their usual taste. Whatever you do, don't panic! No matter what you buy, she will love the fact that it came from the heart, regardless of what you choose.
What's Her Ring Size?
Do you have any idea what her ring size is? Don't worry, as there are numerous resources available to you, such as this handy video below.
Nelle and Lizzy is passionate about making unique gifts for wives and spouses. Whether you want to surprise her with a "just because" present on any give day or if you want to gift her with a personalized ring for her birthday, we would be happy to create the perfect gift for your wife. If you're having some trouble coming up with ideas, please take a look at our Mother's Jewelry and Anniversary Jewelry collections.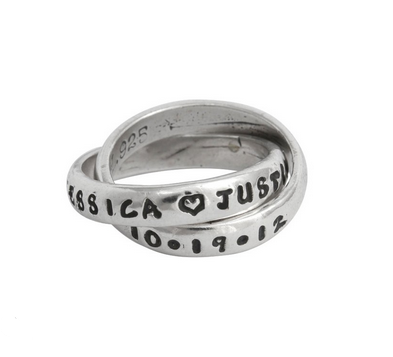 Your Life
Whether a quiet night in, or a lovely dinner for two at your favorite restaurant, it is precious moments and experiences that make the sweetness of our lives compound. Life is beautiful, terrible, calm, frightening, and amazing all at the same time. And it is also precious. So never waste it on the false promise of tomorrow, spend time with the ones you love today to appreciate all the goodness of our collective pasts.