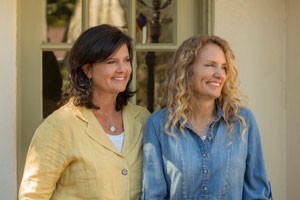 Never Underestimate the determination of a Mother...
Personalized mother's jewelry which is simple and sophisticated is our passion. Designing stamped jewelry for moms was not something either of us ever envisioned we would be doing as a career but some things happen when you least expect it and that is exactly how Nelle and Lizzy was started. After the birth of my (Page's) third son, I received a triple band ring from my husband. Although I understood the meaning of the three bands I thought the ring would be even more special if it had the name of each of my boys engraved on the outside. So I went to numerous jewelers trying to find someone who could complete what I thought was an easy task but to my surprise could not find anyone. Everyone I spoke with said it was "impossible". So I called my friend Martha who I knew was not only experienced in jewelry design and retail, she has a heart of gold and a work ethic that can not be matched. It only took one meeting and we were on our journey to make the impossible a reality. We stamped our first ring in 2004 and over a decade later we have stamped tens of thousands of rings, bracelets and charms yet we still love coming to work and creating jewelry which is subtle and sophisticated yet it holds a wealth of meaning to each recipient.
We have been fortunate to have been recognized for our designs by Oprah (!), People Magazine, Southern Living, Parents and many more publications. As a result, the business grew fast and we expanded the line to include charms, necklaces and bracelets. At our ten year anniversary we decided to make a change and get back to the root of our business. We made the conscience decision to downsize the items that were taking up most of our time and grow the designs we liked the best ~ the subtle and sophisticated rings, bangles and a few more items.
All our kids are in high school and college now and we still love coming to work every day. We celebrate newborns, marriages, anniversaries, accomplishments and even commemorate deaths. Honestly our favorite part is hearing why someone is ordering a piece. We like to know who and/or what is involved in each item we stamp. All of the Nelle & Lizzy jewelry line is designed to look in your heart and tell what's inside. If you have an idea you would like us to consider - we would LOVE to hear from you!
Martha & Page
aka Nelle & Lizzy

P.S. ~ Many people ask how we came up with the name Nelle & Lizzy - (pronounced Nell). It comes from our middle names, Martha Nelle and Page Elizabeth....enjoy!